Are you tired of struggling with document chaos in your projects? Do you wish there was a more efficient way to manage your critical project documents and workflows? Look no further! Parascadd proudly presents
PRODOCS
– Your Ultimate Electronic Document Management Solution!
 Why PRODOCS? Here are the Key Features:
Delay Reason Master: Keep track of document delays effortlessly.
Group Creation Master: Streamline collaboration by creating project groups.
MDR Column Setting Master: Customize your document metadata for precise organization.
Alert Reminder Setting: Never miss a due document with automated reminders.
Project WBS Creation: Structure your projects for optimal efficiency.
Project Folder Master: Easily manage project folders and structures.
Stakeholder Master: Maintain a comprehensive list of project stakeholders.
Workflow Creation and Automation: Simplify and automate document workflows.
Revision & Version Control: Ensure document accuracy and version tracking.
Transmittal Setting (In/Out): Effortlessly manage document transmittals.
Correspondences Setting (In/Out): Keep your project communications in check.
Folder and File Definition: Perfect document indexing and categorization.
File/Document Sharing: Share documents securely via email.
IDC Internal Workflow Approval Process: Streamline document approval.
Redlining & Commenting: Collaborate seamlessly in your web browser.
Digital Signature : Digitally protection and signature.
Internal Review Report: Generate insightful review reports.
Comment Resolution Sheet (CRS): Resolve comments efficiently.
Recycle Bin: Safeguard against accidental document deletions.
Checklist: Stay organized with project checklists.
Document Progress Measurement and Costing: Gain valuable insights.
Document Progress Scheduling: Plan and track document milestones.
Tracking and Searching: Find documents with ease.
Document Interface and Security: Keep your documents secure.
Hold Management: Manage document holds effectively.
Access Data Anywhere & Anytime: Stay connected to your documents.
Work in Web Browser: No need to download source files.
Profile Creation Master: Control access rights and permissions.
Collaborative Environment: Work seamlessly with stakeholders.
Manage Documentation: Cover all disciplines and functions.
Single Source for Project Documentation: Simplify your document repository.
Effortless Upload & Download: Save time with batch operations.
Dashboard and Reports: Monitor project progress with ease.
Discover how PRODOCS can transform your document management process, leading to increased efficiency, reduced errors, and improved project collaboration.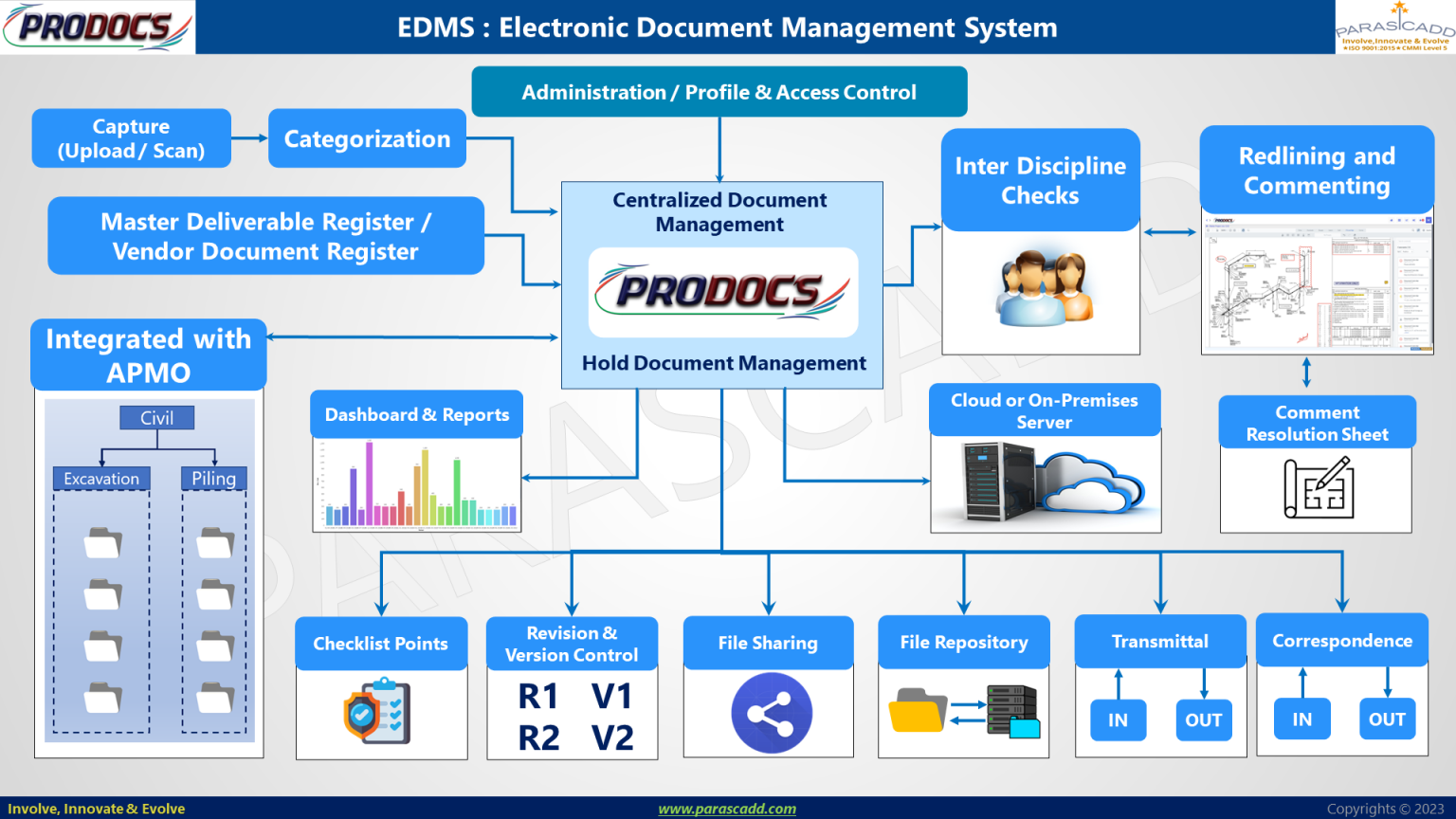 Ready to take control of your documents? Contact us today for a personalized demonstration of 
PRODOCS
! Don't let document chaos hinder your project's success. Embrace PRODOCS, the ultimate Electronic Document Management System.