Material Analysis & Look Ahead Plan
It provides analysis / reports w.r.t MTO vs. PO/CDD/ETA/Transit/DRR/MRR and generates list of lines for which materials are fully available. It also generates lists of lines for which materials are partially available or not available at all.
Project, Project Control, Procurement, Fabrication, Erection
EPCM/EPC/ Fabricator & Owner
Engineering DATA
- Item Code Library (Engg. Code, Procurement Code
- Line wise MTO / BOM
- Bulk Material data
MTO Quantity Analysis
- MTO Stage (P/I/F/T1,2,3) quantities, Contingency,
Substitution, Stock Transfer
- Effective Requisition quantities
Procurement
- Raise Purchase Requisition (PR)
- Raise Purchase Order (PO)
- Track for the updating ordering quantities
Delivery Schedule Tracking
Expediting material delivery by tracking CDD, FDD, SRD, Inspection and Transit Moments
Comparison
- PO vs. PR
- MTO vs. Purchased Quantity
- Ordered vs. Delivered Quantity
Planning wrt. Material
- Material available (Inspected/non-inspected)
- Material PO is placed, in transit (PO is raised)
- Material MTO from engineering
Integration/Issuance
- SPOOLMAN / ERMAN-Match Front.
- Engineering MTO- Material Issuance to the sub-contractors
Material of other Disciplines
Piping, Structural, Civil, Equipment, Electrical, E&I, HSE etc.
Material Look Ahead Planning Reports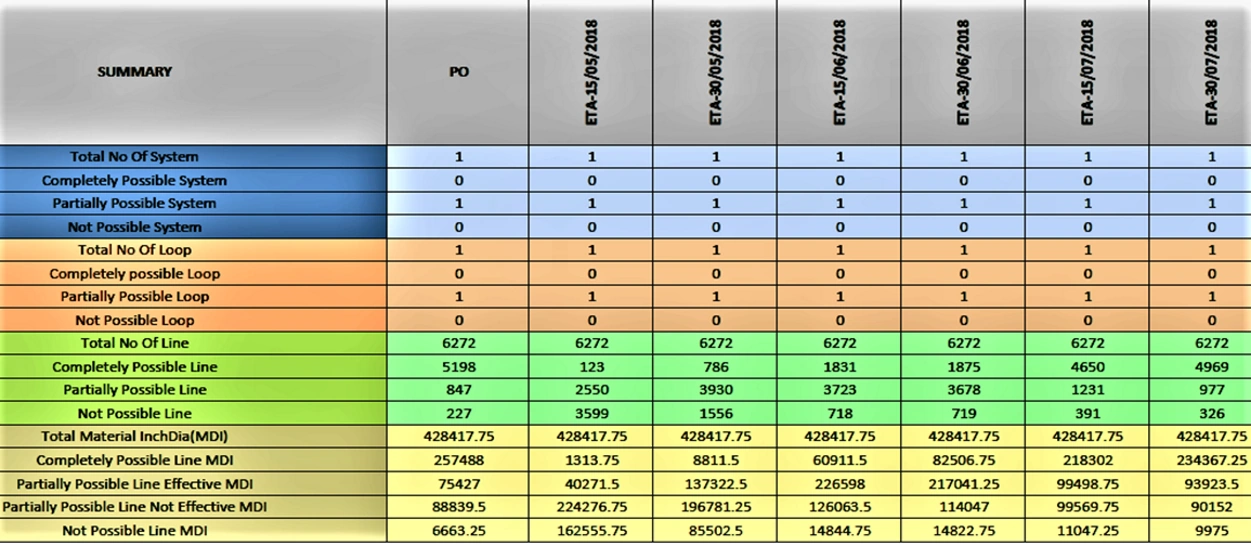 MTO Analysis and find out effective Material Req. Qty.
Material Substitution, Stock Transfer
Piping, Structural, Civil, Equipment, Electrical, E&I, HSE etc.
Substitution, Stock Transfer, Effective Purchase Qty.
Material Purchase Control, Raise PR, Raise PO
Substitution, Stock Transfer, Effective Purchase Qty.
Material Purchase Control, Raise PR, Raise PO
Material Delivery Schedule Tracking, CDD, FDD, SRN, Transit
Material Shortage, not delivered or Over received.
Material available (Inspected) / (non-inspected)
Material PO is placed, in transit (PO is raised)
Material MTO from engineering
PO vs. PR
MTO vs. Purchased Quantity
Ordered vs. Delivered Quantity
See the product in action