SPOOLMAN / ERMAN is a solution for planning, management of material & construction activities for spool fabrication & erection at shop/site.
SPOOLMAN / ERMAN is a Pipe Spool Fabrication and Erection software for planning, management of material & construction activities for spool fabrication & erection at shop/site. This pipe spool erection software is useful for effective matching front analysis, work allocation, material allocation, piping material control and tracking of spools & erection items. The product is valuable for an efficient macro and micro level construction planning beginning with issuing materials, fabrication/erection of spools, quality inspection& testing, painting till the generation of line history sheets, transportation of finished spools to lay-down for storage, dispatch to site for erection, mechanical clearance, insulation, final clearance of loops & systems.
SPOOLMAN / ERMAN is a part of EPCPROMAN Suite.
Read how SPOOLMAN/ERMAN helps you in the management of Pipe Spool Fabrication and Erection
Functionality of Combination Solution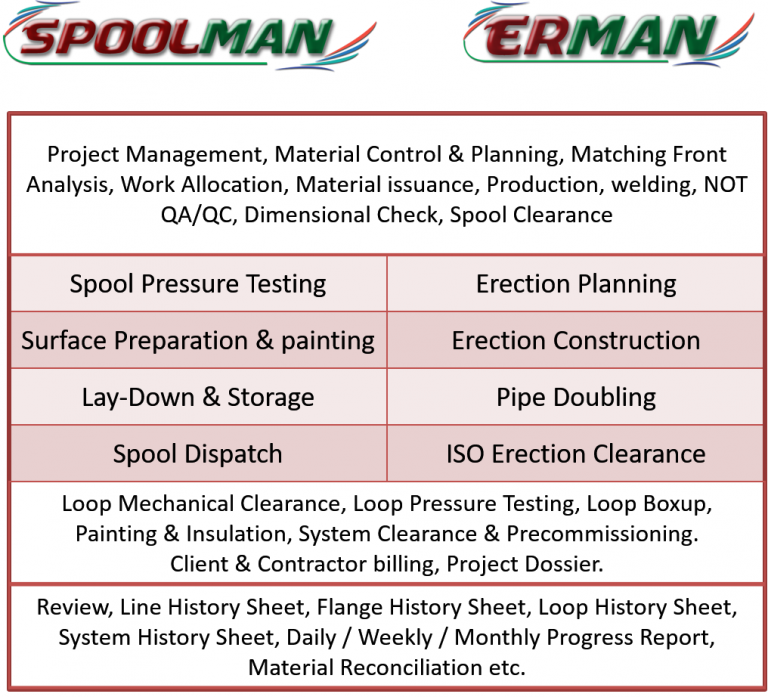 SPOOLMAN ERMAN Deliverables
This pipe spool erection software aids in pre-defining various unique phases which a specific spool/line has to undergo in the Fabrication / Erection cycle based on the requirement of project NDT plan, Piping Material Specification, Fluid Code / Service, Paint Specification, AG/UG category etc.
This product controls material in every stage of the work by checking the material availability for Fabrication / Erection of the spool / line, assigning of spool/lines based on the workload available with the sub-contractor, assigning and issuing ma terial to the sub-contractor for the assigned spool / lines, handing over the drawings for fabrication / erection after ensuring material is ready with the sub-contractor for fabrication/erection.
Fabrication Front analysis:
The Software performs Front analysis for fabrication based on available material at store and material required to fabricate individual spools. The result of front analysis highlights the list of lines, spools & joints which can be fabricated. The results are also indicated through color coding(Green -Completely possible, Yellow -Partially possible, Red – Not possible).


Material constraint list (material required in store to completely fabricate all the partial possible & not possible spools) is generated automatically.


List of balance material available in stores, effective scope & non-effective scope can be generated. Reports of completely possible spools, partially possible spools, not possible spools is generated with spool wise Inch Dia possible for fabrication.


Erection Front analysis:
The Software performs Front analysis for erection based on the availability of erection material at the store and fabricated spools. The associated equipment erection, technical structure installation can also be considered for the erection front analysis.


The result of the analysis is the list of completely possible lines for erection, partially possible lines for erection & not possible lines for erection with possible Inch Meter. Material constraint list for erection item and the status of constraint spools list is automatically generated for monitoring.
This Software helps the planning engineer to analyze the work front availability, assign spool/lines to the sub-contractor based on the subcontractor's scope of work (like Units / Area / AG / UG piping, Fabrication / Erection, Service etc.) in the project & the current workload available. The work assigned to the sub-contractors are documented with transmittal number & scope in Inch Dia / Inch Meter / Weight allocated against the same.
The Front release assures the materials & corresponding drawings are released to the subcontractors with recorded documents to ensure the released front is available for fabrication/erection.
Before utilizing the material for production Fit-up. Report was created with store material to inspect fabrication shop and PMI (positive material identification).
Fit-up report with parameters like root gap, bevel angle, heat numbers, alignment etc. is recorded. The production activity can be customized & automated through Barcode & Scanning technology with live / batch progress update through WIFI/data transfer
Pipe Spool Fabrication Software and Pipe Spool Erection Software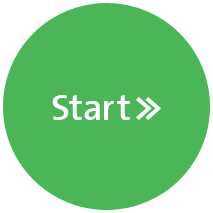 Sign up on PARASCADD Gold
Start Your Free Trial of SPOOLMAN, Now !