Manage digital content with ease, save time, and increase productivity.

Electronic Document Management and Hold Management
PRODOCS is a document management application (DMS). It is used to manage, track, and store electronic documents of paper-based information captured via mediums such as document scanners, Mailboxes, Websites, Office tools, Integration tools, and so on. 
This Document Management System (DMS) manages and organises documents across an organisation. Document and content capture, workflow, document repositories, output systems, and information retrieval systems are all included. It also includes the procedures for tracking, storing, and controlling the documents. 
It is also a system for drawing and document hold management, discipline-wise, history, reasons, time taken to remove holds, delay analyses, Ready Reckoner, and the overall process will save time and money on projects.
PRODOCS is a powerful document management system (DMS) that can help your organization manage, track, and store all of its electronic documents. It can capture documents from a variety of sources, including document scanners, mailboxes, websites, office tools, and integration tools. Once documents are captured, PRODOCS can automatically organize them into folders and workflows, making them easy to find and access when you need them.
PRODOCS also includes a variety of features to help you collaborate with others on documents and ensure that everyone is working on the latest version. It also provides robust security features to protect your sensitive documents from unauthorized access.
DMS Redlining and Commenting Features
Experience Seamless Real-Time Collaboration with Our Document Management Software
Redlining and Commenting are essential features of document management software. They can help to improve collaboration, increase accuracy, and reduce risk. By using these features, you can ensure that your documents are accurate, up-to-date, and error-free.
Redlining and Commenting also help to:
Streamline the review and approval process for documents.
Improve communication and understanding between team members.
Create a more organized and efficient document management process.
Document management software (DMS) helps you find, store, and archive documents efficiently and securely.
DMS software is a valuable tool for any organization that wants to improve its document management processes.
It can help organizations to increase efficiency, reduce costs, improve compliance, and enhance collaboration.
Document Management Workflow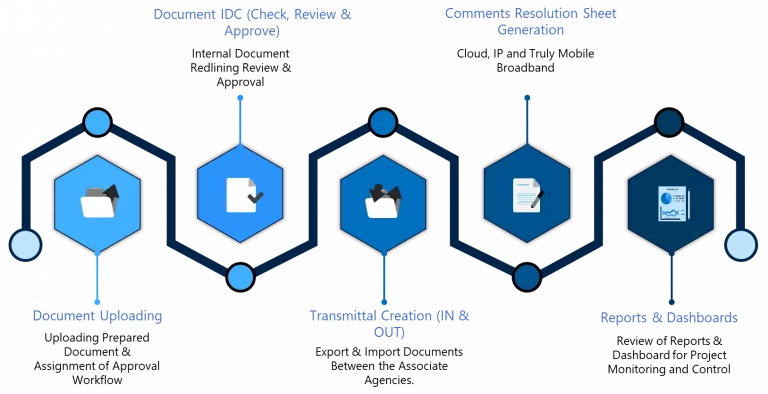 How to use the Document Management Software (DMS) ?
Document management system of choice for epc COMPANIES.
Download Brochure to learn more about PRODOCS DMS.
Document Management Software Features
PRODOCS supports Annotation, Redlining & Review for Engineering & Construction. You can easily track changes and manage corrections in design and drawings and in all types of supported documents.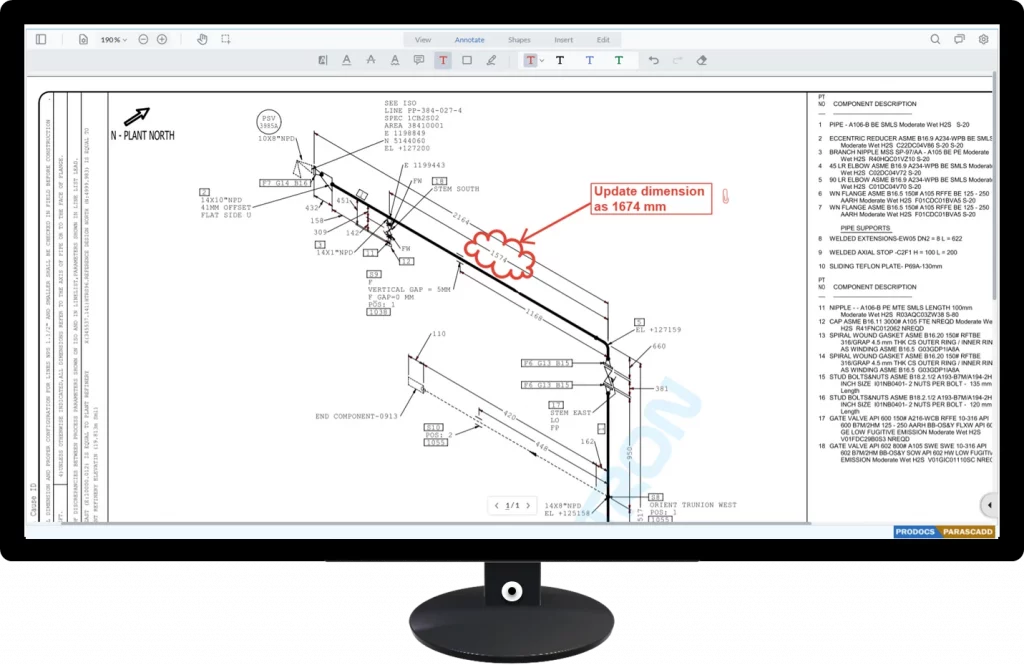 When it comes to document input, most of the businesses combine paper and digital files. The PRODOCS  Document Management System allows inputting files through the following sources:
Scanner
Email
Manual Upload
Bulk Upload
Automated Process for Mass Uploading
Mobile Applications
Web Services
Document indexing and metadata is the process of associating or tagging documents with different "search" terms. Indexing is a path to the documents. That path is based upon your business processes and your staff. PRODOCS includes following indexing features:
Indexing of all documents
Custom Automatic Document Numbering
Content recognition and indexing
Indexing Meta Data
Indexing all revisions
OCR in different languages 
Supports innumerable formats
Extendable meta data fields
PRODOCS includes the following search features:
 Safe and Powerful search
Document content and meta data search
Advanced search on all document attributes
Scalable Document Search Engine
Document Processing involves the conversion of typed and handwritten text on paper-based & electronic documents (scanned image of a document) into electronic information utilizing one of, or a combination of, Intelligent Character Recognition (ICR), Optical Character Recognition (OCR) and experienced Data Entry Clerks. PRODOCS provides the following document processing features:
Create Documents using Templates
Link Document to records in System
Forward, Move, Share Documents
Email Documents
Revise Documents
Inbuilt Document Editors for various file types
Check-In and Check-out documents
A good document management system, should have inbuilt an enterprise level Business Process Management and Workflow Automation that automatically routes the documents to their destination. The workflow automation in PRODOCS DMS provides:
Rule based processing on incoming documents
Setup individual rules and document actions
Automatic and Manual workflow
Document Routing
Business Process Modeling with Customized Windows, Reports
Configure multi-level approvals
Automatic creation of records based on documents
Update records based on documents
Version Control & Archiving
Every business has the need to maintain more than one version of the same document. Also they need to maintain an archive of all the documents in the enterprise. For that reason, PRODOCS Document Management System (DMS) provides for versioning and archiving of documents.
Security is one of the most critical aspects of a document management system. PRODOCS DMS provides a high level of document encryption and role-based access, as well as:
Audit Trail
User and Roles
Advanced Access rights
Encrypted Documents on a file system
Indexing all revisions
Supports SSL
Modify Ownership
A DMS user interface should be simple and easy to navigate. Not everyone is technologically inclined, so the simpler the software, the better. PRODOCS main dashboard includes:
Workflow Inbox
Document inbox
Inbuilt Calendar, Email, SMS
Alerts and Notifications
Follow-ups and Chat
Document Management Software (DMS) FAQ:
What is Document Management Software (DMS) ?
Document management software aids businesses in the creation, sharing, and storage of documents. Document management tools enable professionals to collaborate with one another through document sharing, editing, and commenting, as well as document search, image capture, and access management.
What is Engineering Document Management Software (EDMS) ?
An electronic DMS that is specifically targeted towards an organization's engineering drawings, documents, and data is known as an engineering document management system (EDMS).
An engineering document management system, or EDMS, is a powerful programme created to integrate an organization's dynamic and usually complicated engineering documents, drawings, and data. It does this by replacing older, dispersed, or manual processes.
What are the benefits of an EDMS Software ?
Reduced Document Searching Time
Improved Cost Control
Increased Data Integrity
Better Teamwork & Collaboration
Advanced Search
Improves Workflow
Reduce Costs
See the product in action
Document Management System (PRODOCS)
Electronic Document Lifecycle Management, Document Indexing, Search, Processing, Workflow Automation, Version Control & Archiving, User Dashboard, Document Security